Title: The Rise of CNC Turning Services: The Future of Precision Manufacturing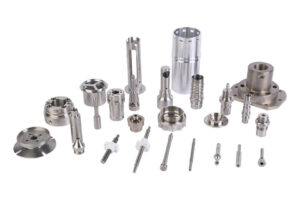 Are you in the manufacturing industry and wondering what the hype around CNC turning is all about? Or are you a curious mind who wants to know more about this rapidly growing technology? Whatever the case may be, this post is for you. Today, I am going to delve deeper into the world of CNC turning services, what they are, how they work, their benefits, and their future.
To put it simply, CNC turning is a modern machining process that involves the use of computer-controlled lathes to shape materials into specific parts or components. In the past, traditional methods such as manual turning and milling were used, which were labor-intensive and prone to errors. However, with CNC turning, the process has been automated, resulting in higher accuracy, faster production times, and greater efficiency.
So how does CNC turning work? The process involves loading a material onto the lathe chuck and then using a series of cutting tools to shape it into the desired form. The cutting tool is controlled by a computer program that specifies the cuts to be made, the speed at which they will be done, and the precise depths and angles of each cut. The result is a highly precise part or component that meets the exact specifications of the design.
Benefits
One of the main benefits of CNC turning is its high level of precision. Since the process is entirely computer-controlled, there is very little room for error. Additionally, CNC turning is highly repeatable, meaning that the same part can be produced multiple times with the same level of accuracy. This makes it perfect for mass production, where consistency and quality are essential.
Moreover, CNC turning is highly versatile, as it can be used to produce parts made from a wide range of materials. Whether it is metal, plastic, or wood, CNC turning can shape it with ease. Furthermore, the process can be used to produce complex geometries and intricate designs, which would be impossible to achieve with traditional methods.
But what does the future hold for CNC turning services? With the rise of 3D printing, there has been some speculation that CNC turning may become obsolete. However, this is far from the truth. While 3D printing is excellent for rapid prototyping, it is not an ideal option for mass production. CNC turning, on the other hand, is perfect for large-scale production, where speed, accuracy, and precision are crucial. In fact, it is estimated that the global CNC turning services market will grow at a CAGR of 6.2% between 2021 and 2026, driven by increased demand for precision manufacturing.
CNC Turning Factory
1) Aluminum: AL 6061-T6, 6063, 7075-T etc.

2) Stainless steel: 303,304,316L, 17-4(SUS630) etc.

3) Steel: 4140, Q235, Q345B,20#,45# etc.

4) Titanium: TA1,TA2/GR2, TA4/GR5, TC4, TC18 etc.

5) Brass: C36000 (HPb62), C37700 (HPb59), C26800 (H68), C22000(H90) etc.

6) Copper, bronze, Magnesium alloy, Delrin, POM,Acrylic, PC, etc.

Sandblasting, Anodize color, Blackenning, Zinc/Nickl Plating, Polish.

Power coating, Passivation PVD, Titanium Plating, Electrogalvanizing.

Electroplating chromium, electrophoresis, QPQ(Quench-Polish-Quench).

Electro Polishing,Chrome Plating, Knurl, Laser etch Logo, etc.

Cylindrical grinder machine, Drilling machine, Laser Cutting Machine,etc.

STEP,STP,GIS,CAD,PDF,DWG,DXF etc or samples.

+/-0.01mm ~ +/-0.05mm

Ra 0.1~3.2

Complete inspection lab with Micrometer, Optical Comparator, Caliper Vernier,CMM.

Depth Caliper Vernier, Universal Protractor, Clock Gauge, Internal Centigrade Gauge.

CNC turning work range: φ0.5mm-φ150mm*300mm.
In conclusion, CNC turning services are rapidly becoming the future of precision manufacturing. Its accuracy, speed, versatility, and efficiency make it the ideal process for mass production. Furthermore, its adaptability to a wide range of materials and complex designs ensure that it will continue to be an essential part of the manufacturing industry for years to come. So if you are looking to enhance your manufacturing capabilities and stay ahead of the competition, consider investing in CNC turning services today.